Paul Wood, Managing Director, EMEA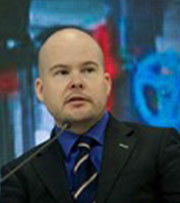 Paul has over 12 years extensive experience in the energy and commodities sectors, working across Europe, Africa, Asia-Pacific and the Middle East. Prior to moving to Dubai in 2006, Paul spent three years in London and three years in Singapore with the Petroleum Argus group, using extensive knowledge of downstream oil economics to develop pricing indices used as benchmarks within global physical and OTC oil products markets. During his time with Petroleum Argus, Paul made frequent media appearances, giving expert opinion on global oil market issues to CNBC Asia, BBC World, and numerous radio stations including BBC World Service and Voice of America.In Dubai Paul has worked as Business Development Manager for Dubai Multi Commodities Centre, responsible for initiating, developing and implementing soft and hard infrastructure projects that can enhance trade flows through the Emirate. Within this role, Paul has devised and co-ordinated project strategies and drawn up economic models for a broad variety of commercial infrastructure projects in the emirate. Such projects have included commodity futures contracts, a US$200mn oil products storage facility and tanker berth, expansion of a multi-origin tea trading and storage centre and a state of the art electronic platform for hosting commodity-backed Islamic finance transactions, the first of its type in the world.
Working at Petroleum Argus and Dubai Multi Commodities Centre has enabled Paul to build extensive and high level contacts across the government and commodities sectors in Africa, the Middle East and Asia-Pacific.
Paul is originally from the UK and graduated from Cambridge University with an MA in philology. He is fluent in French and also speaks and writes Arabic and Farsi.