Wei Lai, Managing Director, Greater China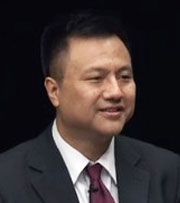 Mr. Wei Lai, a 38 year old Chinese national, is Managing Director of Waterfund Greater China, based in Beijing. Wei Lai is responsible for the firm's regional product development with IBM and liaison with the Water Ministry, utilities, and governmental organizations in the water sector. Wei Lai has been an idea leader and participant at many of China's major infrastructure and investment events since joining Waterfund.
Wei has over 10 years of media and investment experience, respectively, with the Xinhua News Agency, Global Times of the People's Daily, Softbank E2 Capital, New Asia Partners and G20 Global Capital. Wei's research is focused on geopolitics and economic issues and he is an active member of high level Chinese policy, diplomatic, think-tank, and business circles. In 2011, Wei finished his dissertation "Economic Growth in Global System."
Wei works with China's newspaper Global Times as a journalist and producer. In 2010, Wei created an online strategic talk-show "Global 500″ at Huanqiu.com for world leaders to discuss issues that may change China and the world. Wei holds his Masters from John Hopkins University's School of Advanced International Studies and his BA with honors from Nanjing University in English literature. He is a Fellow of the Aspen Institute China Program and a member of the Aspen Institute Global Leadership Network. See more at:
http://www.aspeninstitute.org/leadership-programs/china/second-class#sthash.SX3meK1X.dpuf.
Global500 can be seen at http://v.huanqiu.com/huanqiu500/list/ Recent guests include the CEO of GM China, the Ambassador of the Kingdom of Saudi Arabia to China and the Mayor of Philadelphia.